THE LAST FILIPINO HEAD HUNTERS
BY DAVID HOWARD, IS AN EXQUISITELY DESIGNED AND PRINTED, FULL COLOR 178 PAGE BOOK, CONTAINING 515 PICTURES BY THREE PHOTOGRAPHERS, WHO WORKED THROUGHOUT THE LAST CENTURY, STARTING IN 1890. DAVID HOWARD IS THE ONLY REMAINING LIVING CONTRIBUTOR TO THIS REMARKABLE SURVEY. THE TWO OTHER PHOTOGRAPHERS ARE NOW DECEASED. HOWARD'S SENSITIVE AND PERSONAL PORTRAYAL, AS EDWARD CURTIS' IMAGES SHOW THE LAST AMERICAN INDIAN TRIBES, HOWARD DEPICTS THE LAST LIVING GENERATION OF FILIPINO TRIBAL ELDERS. THIS ORIGINAL AND INNOVATIVE PRESENTATION EMBODIES THREE FILIPINO GROUPS ON THE BRINK OF EXTINCTION. MORE THAN 3000 YEARS OF TRIBAL TRADITION WILL VANISH FOREVER, WHEN THESE FEW REMAINING FILIPINO HEAD HUNTERS CEASE TO EXIST. THIS LAVISH PRODUCTION IS AN INVALUABLE HISTORIC RECORD THAT BRIDGES THE GAP BETWEEN TRADITIONAL ANTHROPOLOGY AND POPULAR CULTURE. EVERYONE CAN APPRECIATE THE STUNNING BEAUTY IN THIS REMARKABLE ACHIEVEMENT!


"A REWARDING AND INTRIGUING PROJECT..."

PAUL MICHAEL TAYLOR

THE NATIONAL MUSEUM OF NATURAL HISTORY,
SMITHSONIAN INSTITUTION,
WASHINGTON D.C



THIS BOOK IS UNIQUE IN THE WAY IT
PRESENTS TEN PEOPLE AS INDIVIDUALS, UNLIKE
PREVIOUS TRIBAL DOCUMENTARIES, WHICH GENERALLY
DEPICT GROUPS OR TRIBES, RATHER THAN INDIVIDUALS.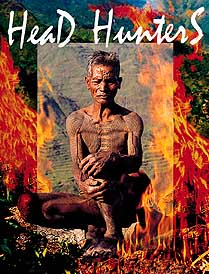 "AN EXPERIMENTAL PHOTOGRAPHER
OF AMAZING ABILITY"

BOTH THE SAN FRANCISCO CHRONICLE
AND NEW YORK'S VILLAGE VOICE
DAVID HOWARD'S ART HAS BEEN INCLUDED IN MORE THAN FIFTY EXHIBITIONS IN FIVE COUNTRIES. HE IS REPRESENTED IN MORE THAN TWELVE MUSEUM COLLECTIONS. HIS VIDEO DOCUMENTARIES HAVE AIRED ON P.B.S. NETWORK TELEVISION, AS WELL AS, SEVENTEEN CABLE STATIONS THROUGHOUT THE UNITED STATES. DAVID'S RENOWNED DOCUMENTARY OF "NEW YORK'S EAST VILLAGE" WAS PRESENTED AT THE WHITNEY MUSEUM OF AMERICAN ART, "KEITH HARING: ARTIST AT WORK", AND "CHRISTO: THE ARTIST'S DECISION" HAVE BEEN ARCHIVED BY HUNDREDS OF MUSEUMS AND UNIVERSITIES THROUGHOUT THE WORLD.
"THE PHOTOGRAPHY IS
BEAUTIFUL AND COMPELLING."

KATHLEEN BERRIN
THE FINE ARTS MUSEUMS OF SAN FRANCISCO

THE LAST FILIPINO
HEAD HUNTERS CAN
BE ORDERED ON LINE
THROUGH AMAZON.COM