ASMAT TRIBE:
HUMAN ANCESTOR CHIEF'S SKULL #24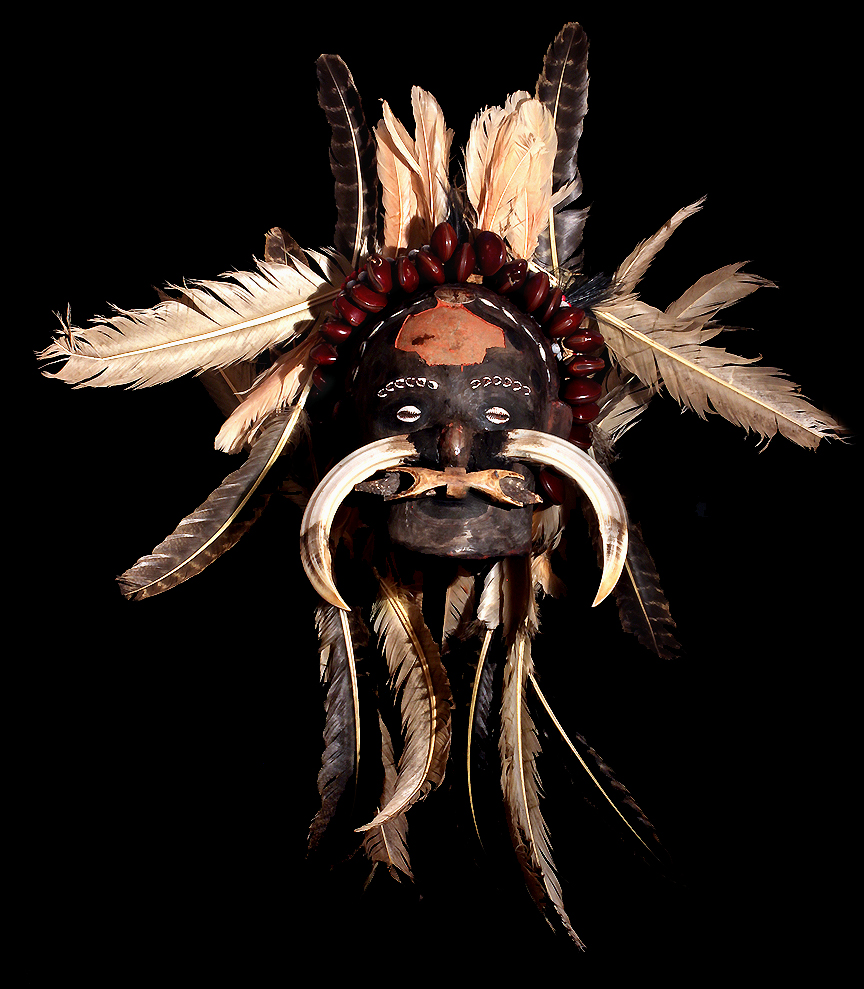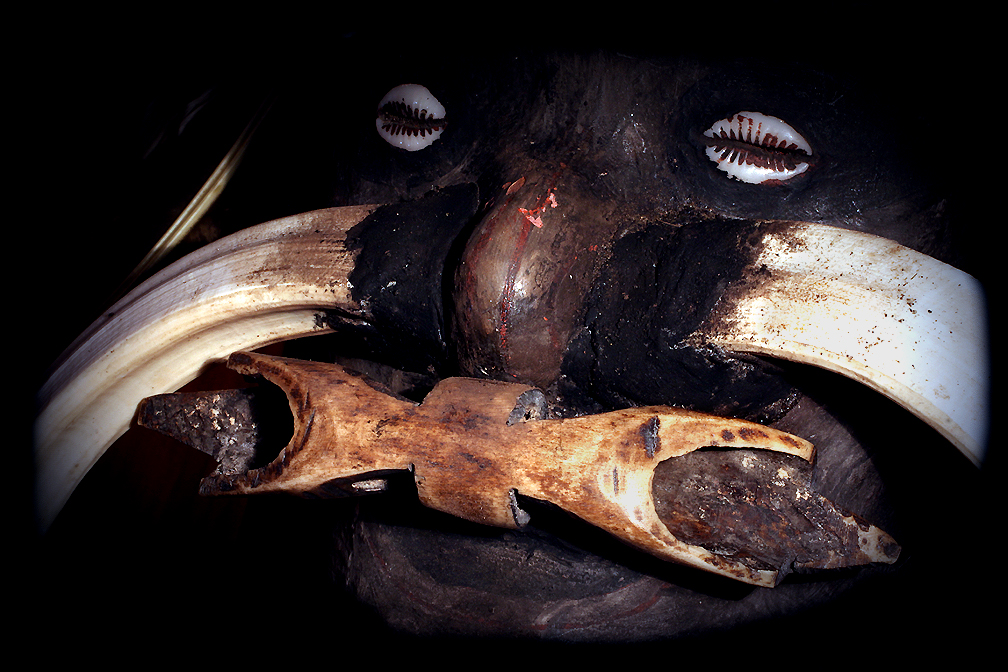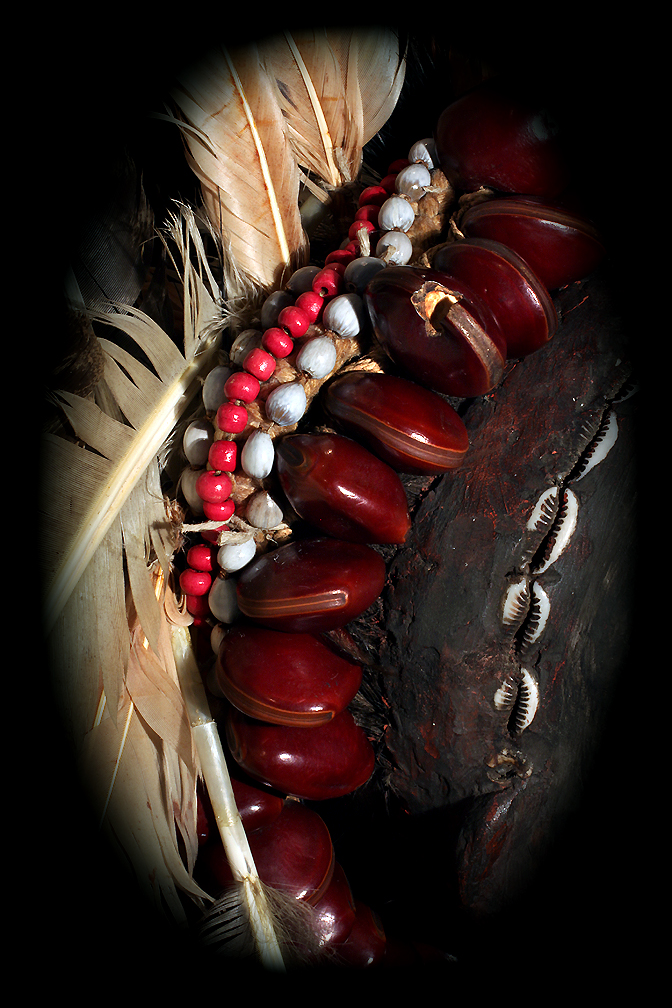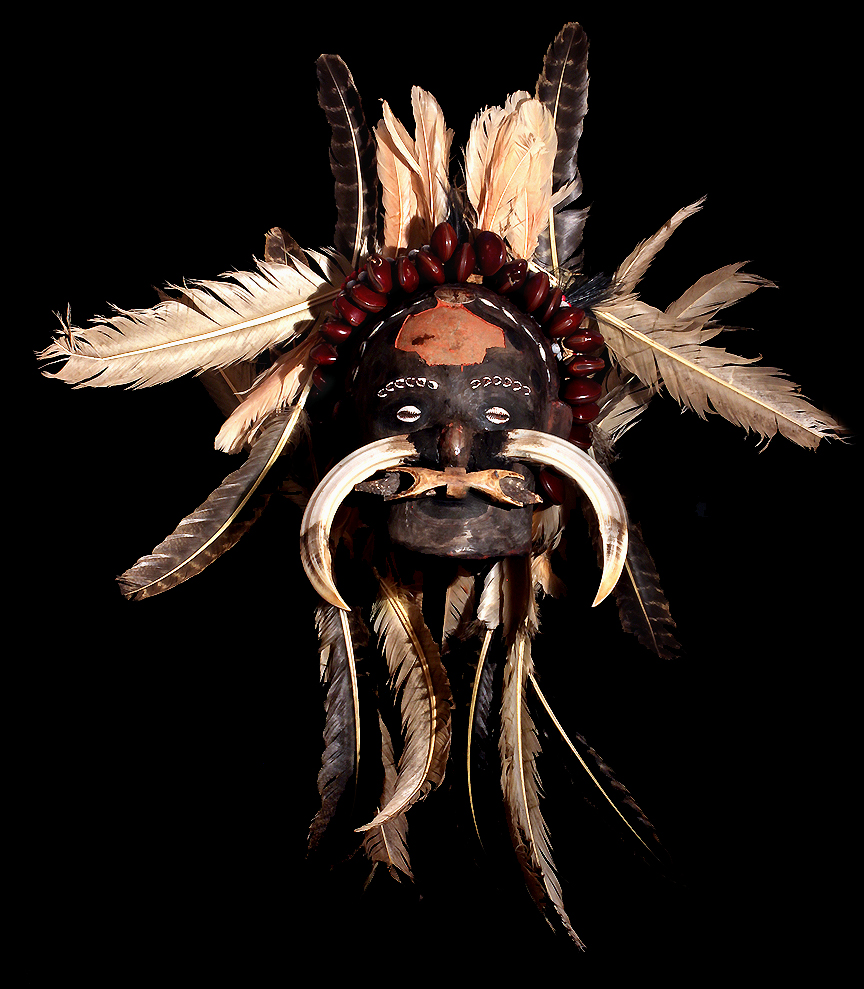 ASMAT TRIBE: HUMAN ANCESTOR CHIEF'S SKULL #24
OVER MODELED HUMAN SKULL, HAND CARVED BONE NOSE RING,
BOAR TUSK NOSE RING, FIBER, WHITE + BROWN SEEDS,
WOVEN FIBER, CLAY, 5 FEATHER TYPES, RED BEADS
Headhunting raids were an important element of Asmat culture until missionaries suppressed the practice. The death of an adult, even by disease, was believed to be caused by an enemy, and relatives sought to take a head in an endless cycle of revenge and propitiation of ancestors. Heads were thought necessary for the rituals in which boys were initiated into manhood. Cannibalism was a subsidiary feature of the rituals that followed the taking of heads.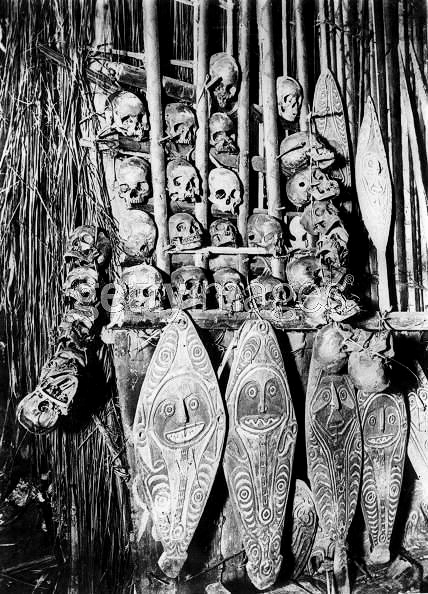 The first apparent sighting of the Asmat people by explorers was from
the deck of a ship led by a Dutch trader, Jan Carstensz in the year 1623.
Captain James Cook and his crew were the first to actually land in Asmat
on September 3, 1770 (near what is now the village of Pirimapun).
According to the journals of Captain Cook, a small party from the
HM Bark Endeavor encountered a group of Asmat warriors;
sensing a threat, the explorers quickly retreated.


The Asmat are an Indonesian cannibalistic tribe on the island;
Papua. Known to use human skulls under their heads for pillows,
they also have been reported to eat human brains mixed with sago
worms straight from halved human skulls. The Asmat live in
mangrove vegetation near the sea and rivers, on the south side
of the western part of New Guinea. The Asmat, in addition to hunting
for skulls, also worshipped them. Ancestor skulls are stripped of
brains and eyes! Nasal passages are closed to prevent evil spirits
from entering or exit the body. Asmat decorated skulls
are displayed in sacred places inside Asmat domiciles.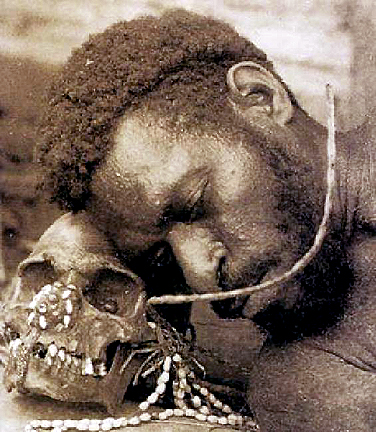 Asmat art, most noticeably elaborate, stylized wood carving,
is designed to honor ancestors. Many Asmat artifacts have been
collected by the world's museums, among the most notable of which
are those found in the Michael C. Rockefeller Collection at the
Metropolitan Museum of Art in New York City and the Tropen Museum
in Amsterdam. One of the most comprehensive collections of Asmat Art
can be found in the American Museum of Asmat Art at the
University of Saint Thomas in St. Paul, Minnesota.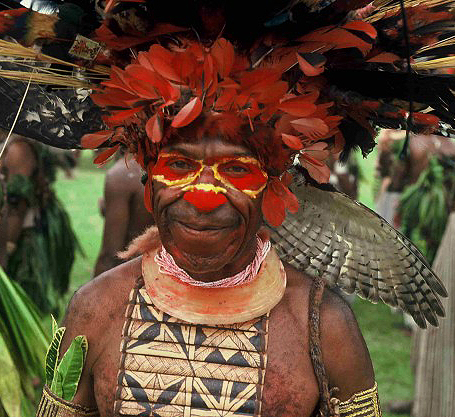 Until the 1950s, their remote and harsh location isolated the Asmat
from other peoples. It was not until the mid-20th century that they
came into regular contact with outsiders. The Asmat were documented
headhunters and cannibals, and as a consequence were left
largely undisturbed until the mid-20th century.

Traditionally, many Asmat men practiced polygamy by marrying
more than one woman. In many cases, men were expected to marry
a male relative's wife when that relative dies (otherwise the woman and her
children would be left without a source of protection or economic support).
Many Asmat men had long-term ritual sexual/friendship relationships with
other men, although the prevalence of this practice has been disputed by
others. In the mbai system, male partners were also known to share
their wives in a practice called papitsj.

The natural environment has been a major factor affecting the Asmat,
as their culture and way of life are heavily dependent on the rich natural resources found in their
forests, rivers, and seas. The Asmat mainly subsist on starch from the sago palm
(Metroxylon sagu), fish, forest game, and other items gathered from their forests and waters.
Materials for canoes, dwellings, and woodcarvings are also all gathered locally,
and thus their culture and biodiversity are intertwined. Due to the daily flooding which occurs
in many parts of their land, Asmat dwellings have typically been built two or more meters
above the ground, raised on wooden posts. In some inland regions, the Asmat have lived in
tree houses, sometimes as high as 25 meters from the ground. The Asmat have traditionally placed
great emphasis on the veneration of ancestors, particularly those who were accomplished warriors.
Asmat art, most noticeably elaborate, stylized wood carving, is designed to honour ancestors.
Many Asmat artifacts have been collected by the world's museums, among the most notable of
which are those found in the Michael C. Rockefeller Collection at the Metropolitan Museum
of Art in New York City and the Tropenmuseum in Amsterdam.

Linguistic classification of the native language(s) of the Asmat people
is somewhat problematic, but is generally characterized as being a group of closely related
languages or dialects (most mutually intelligible to some degree), known as the Asmat
family, which is a sub-family of the Trans–New Guinea language phylum. However,
some ethnic groups who speak languages in the Asmat language family, such as
the Kamoro and Sempan peoples who live adjacent to the Asmat,
are ethnically distinct from Asmat.

Asmat may be thought of as an umbrella term for twelve different ethnic
sub-groups with shared linguistic and cultural affinities and sense of
shared identity. These twelve Asmat groups include Joirat, Emari Ducur,
Bismam, Becembub, Simai, Kenekap, Unir Siran, Unir Epmak, Safan,
Aramatak, Bras, and Yupmakcain. Further complicating the issue, these
groups speak approximately five dialects (Casuarina Coast Asmat, Yaosakor
Asmat, Central Asmat, North Asmat, Citak). However, at some important
level these groups share a sense of identity and would likely
refer to themselves as "Asmat."

ANCESTOR SKULLS ARE COLLECTED AND VENERATED TO REMEMBER
DECEASED FAMILY MEMBERS. THE IFUGAO COLLECT BONES OF DEAD
RELATIVES; WRAP THEM IN TRIBAL TEXTILES, AND STORE THEM IN THE
RAFTERS UNDER THEIR HUTS. HUMAN SKULLS AND SKULL CAPS FROM
NEPAL ARE RITUAL OFFERTORY VESSELS THAT ARE USED AS
DRINKING CUPS IN TIBETAN BUDDHIST CEREMONIES.

THE ASMAT TRIBE ATTACH
FEATHERS, SEEDS, AND CARVED SEA SHELL NOSE RINGS
TO THEIR DECEASED ANCESTOR'S SKULLS.











David Howard, art, artist, photography, photographic, photographs, print, prints, director, producer, exhibitions, exhibits, exhibit, painting, paint, studio, studios, etching, silkscreens, silkscreen, contemporary art, Pop Art, artist's story, journal, video, videos, documentary, documentaries, books, book, asian, asia, Filipino, Philippines, Sacred Journey, author, The Last Filipino Head Hunters, collections, collectables, collectable, archives, archive, art, fine, contemporary, video, dvd, documentary, Keith Haring, Nam June Paik, Christo, Lowell Nesbitt, Lawrence Ferlinghetti, Charles Arnoldi, artists, studio visit, artist, program, sculpture, painting, photography, prints, print, photo, paintings, sculptures, keith haring, christo, david howard, nam june paik, artseen, videos tape, programs, documentaries, arts, world, san francisco, new york, los angeles





ANDY WARHOL, JOSEPH ALBERS, ELLSWORTH KELLY, CLAES OLDENBURG, ROBERT MOTHERWELL, FRANK STELLA, JAMES ROSENQUIST, ROBERT RAUSCHENBURG, KEITH HARING, CHRISTO, ROBERT INDIANA, ROY LICHTENSTEIN, ROBERT MAPPLETHORPE, ALICE NEAL, ARTISTS, ART, ARTIST, PAINTING, SCULPTURE, PHOTOGRAPHY, SITE SPECIFIC, NAM JUNE PAIK, KENNY SCHARF, LOWELL NESBITT, LAWRENCE FERLINGHETTI, ARMAN ARMAN, CHARLES ARNOLDI, CHRIS BURDEN, ART STUDIOS, VIRTUAL REALITY, ABSTRACT EXPRESSIONISM, PRINT MAKING, ETCHING, PAINTING, HOLOGRAPHY, AFRICAN ART, WOODCARVING, MURAL. MURALS, COMPUTER ART, FIGURATIVE EXPRESSIONISM, IMPRESSIONISM, MULTI-MEDIA, MULTI MEDIA





Asian tribal art, artifacts, ifugao, kalinga, bontoc, asmat, dayak, philippines, asia, head hunters, human trophy skull, skulls, african, antiques, naga, necklace, headdress, head hunting trophy skull, Indonesia, Indonesian, SOUTHEAST ASIA, Borneo, Sarawak, ANTIQUES, Kalimantan, Sulawesi, ART, Sumatra, Timor, ARTIFACTS, Bali, Java, INDIA, Flores, Sumba, NEPAL, Savu, Roti, BABAS, Lombok, Malaysia. HOLY MEN, Nusa Tengara, New Guinea, SHAMAN, Irian Jaya, Moluccas, CONTEMPORARY ART, Tanimbar, Leti, OLD, Lembata, Alor, MINILA, Philippines, Luzon, PALAWAN, Mindanao, Sulu, BLOW GUN, Southeast Asia, Asia, NOSE RING, Asian, Burma, HAT, Myanmar, India, SWORD, Nagaland, Nepal, KNIFE, Tibet, Himalaya, MOUNTAIN, Himalayan, Assam, TRIBES, Thailand, Vietnam, YAO, Yunnan, Hainan, HMONG, China, Central Asia, ZAO, Dayak, Batak, BAG, Toraja, Naga, POLE, Chin, Li, QUIVER, Miao, Bahau, MASK, Punan, Penan, MODELED SKULL, Modang, Kayan, BRASS COIL, Kenyah, Ngaju, COILS, Kontu, Kantu, TEXTILE, Iban, Maloh, PRIEST, Tunjung, Busang, RITUAL, Aoheng, Dong Son, MYSTICAL Konyak, Tangkhul, MYSTIC, Ao, Angami, PRIMITIVE, Sema, Wancho, HAND MADE, Bontoc, B'laan, ARTIST, Bagabo, Gaddang, BULUL, Ifugao. Sculpture, BULULS, statue, mask, BOX, beadwork, bead, AUTHENTIC, textile, weaving, TRIBAL, costume, hat, WOODEN, shield, spear, WOOD, helmet, sword, BOAR, charm, fetish, FEATHERS, drum, basket, FEATHER, basketry, jewelry, SILVER, ornament, weapon, ASMAT Canoe, amulet, decoration, SCULPTURAL, architecture, architectural, SCULPTURE, longhouse, headhunter, SKULL, headhunting, shaman, TRIBAL, festival, ceremony, ceremonial, SHAMAN ritual, tattoo, HEAD HUNTER Skull, dragon, hornbill, HEADDRES, art, tribal, VIETNAM, tribe, culture, TRIBES, cultural, myth, TRIBAL, artifact, artefact, REAL, wood, stone, HAND WOVEN, cotton, metal, CAST bronze, brass, cloth, ISLAND, tropics, tropical, EQUATOR, ethnographic, EQUATORIAL, Tribal Art, Primitive Art, Ethnographic Art, Oceanic Art, Folk Art, Ethnic Cultures, AUTHENTIC Artifacts, Textiles, ANCIENT, Costumes, Sculpture, SCULPTURES, Masks, Beadwork, BEADS, Fetishes, Charms, GOLD Jewelry, Baskets, BAMBOO, Weapons, Shields, ORNATE, Indonesia, Borneo, PUPPETS, Sumatra, Sulawese, SHADOW PUPPET, Java, Bali, CAVE, Timor, Flores, ISLAND, Sumba. Lombok, VILLAGE, Molucca, Philippines, RICE TERRACE, Luzon, Mindanao, DAVID HOWARD PHOTOGRAPHY, Nepal, Burma, SACRED JOURNEY: THE GANGES TO THE HIMALAYAS, Thailand, THE LAST FILIPINO HEAD HUNTERS, Laos, Vietnam, TEN SOUTHEAST ASIAN TRIBES FROM FIVE COUNTRIES, India, Central Asia, NECKLACES, Southeast Asia, Dayak, STATUE, lban, Kayan, INK STAMP, Kenyah, Modang, FEATHERED, Bahau, Ngaju, HORSE, Batak, Toraja, NAGALAND, Naga, Dong Song. TRIBAL ART, AUTHENTIC PRIMITIVE ART, OLD ETHNOGRAPHIC ART, RARE OCEANIC ART, BEAUTIFUL FOLK ART, ETHNIC CULTURES, TRIBAL ARTIFACTS, TEXTILES, ASIAN, COSTUMES, SCULPTURE, WOOD MASKS, BEADWORK, CHARMS, FETISHES, SIVER JEWELRY BOXES, BASKETS, WEAPONS, FILIPINO SHIELDS, INDONESIA, BORNEO, ETHNOGRAPHIC, SUMATRA, SULAWESE, TRIBAL, JAVA, BALI, TRIBES, TIMOR, FLORES, ASIAN, SUMBA. LOMBOK, TRIBES, MOLUCCA, PHILIPPINES, TRIBAL, LUZON, ASIAN, MINDANAO, NEPAL, ASIA, BURMA, THAILAND, TRIBAL, LAOS, VIETNAM, TRIBES, INDIA, CENTRAL TRIBAL ASIA, ARTIFACTS, SOUTHEAST ASIA, HEAD HUNTER, DAYAK, ASIAN, IBAN, KAYAN, TRIBE, KENYAH, MODANG, TRIBAL, BAHAU, NGAJU, ASIAN, BATAK, TORAJA, TRIBE, NAGA, tribal art, ASIAN, primitive art, ASIA, ethnographic art, TRIBAL, oceanic art, ASIAN folk art, SOUTHEAST ASIA ethnic cultures, artifacts, ASIAN, textiles, costumes, VILLAGE sculpture, masks, TRIBAL beadwork, fetishes, TRIBES charms. jewelry, TRIBE, baskets, weapons, TRIBAL, shields, indonesia, ASIAN, borneo. sumatra, TRIBAL ART sulawese, java, HILL TRIBE, bali, timor, ASIAN, flores, sumba, TRIBES, lombok, molucca, BULUL STATUES philippines, luzon, ISLAND ART, mindanao, nepal, ASIA, burma, thailand, JOURNEY laos, vietnam, TRIBAL, india, central asia, TRIBE, southeast asia, OLD ART, dayak. lban, TRIBES, kayan, kenyah, ASIAN, modang, bahau, AUTHENTIC TRIBAL ART, ngaju, batak, HEADDRESS, toraja, naga, MOUNTAIN PROVINCE, dong song, KALINGA, Indonesia, Indonesian, IFUGAO, Borneo, Sarawak, BONTOC, Kalimantan, Sulawesi, TRIBAL, Sumatra, Timor, ASIAN, Bali, Java, OLD TRIBAL ART



Flores, Sumba, Savu, Roti, Lombok, Malaysia. Nusa Tengara, New Guinea, Irian Jaya, Moluccas, Tanimbar, Leti, Lembata, Alor, Philippines, Luzon, Mindanao, Sulu, Southeast Asia, Asia, Asian, Burma. Myanmar, India, Nagaland, Nepal, Tibet, Himalaya, Himalayan, Assam, Thailand, Vietnam, Yunnan, Hainan, China, Central Asia, Dayak, Batak, Toraja, Naga, Chin, Li, Miao, Bahau, Punan, Penan, Modang, Kayan. Kenyah, Ngaju, Kontu, Kantu, Iban, Maloh, Tunjung, Busang, Aoheng, Dong Son, Konyak, Tangkhul, Ao, Angami, Sema, Wancho, Bontoc, B'laan, Bagabo, Gaddang, Ifugao. Sculpture, statue, mask, beadwork, bead, textile, weaving, costume, hat, shield, spear, helmet, sword, charm, fetish, drum, basket, basketry, jewelry, ornament, weapon. Canoe, amulet, decoration, architecture, architectural, longhouse, headhunter, headhunting, shaman, festival, ceremony, ceremonial, ritual, tattoo. Skull, dragon, hornbill, art, tribal, tribe, culture, cultural, myth, artifact, artefact, wood, stone, cotton, metal, bronze, brass, cloth, tropics, tropical, ethnographic, primitive, art, masks, asian, ethnographic, oceanic, folk, ethnic cultures, artifacts, Bahau, Kalimantan, indonesia, borneo, sumatra. sulawese, java, bali, timor. flores, sumba, lombok, molucca, philippines, luzon, mindanao, nepal, burma, thailand, laos, vietnam, india, central asia, southeast. dayak, lban, kayan, kenyah, modang, bahau, ngaju, batak. toraja, naga, dong song. Myanmar, Burma, Kachin, Naga, Konyak, Chin, Ao, Wancho, Thangkul, Dao, Helmet, Hat, Hornbill, Mizo, Sema, Assam, India, Mithan, Maram, Morung, Myth, Dream, Post, Pillar, Panel, Architecture, Architectural, Tusk, Hill Tribe, Sacrifice, Skull, War Path, Ritual. Spirit, Figure, Motif, Design, Ceremony, Ceremonial, Raid, Fur, Claws, Teeth, Fangs, Carving, Statue, Sculpture, Kalinga, Ifugao, Luzon, Mindanao, T'boli, Bagabo, B'laan, Sulu, Philippines, Weaving, Blouse, Skirt, Sarong, Shawl, Necklace, Bracelet, Conch Shell, Shell, Brass, Spear. Feather, House, Tradition, Traditional, Ancestor, Cloth, Ikat, Chapan, Uzbek, Asia, Turkoman, Turkamen, Dragon, Snake, Bird, Gong, Island, Indonesia, Indonesian, Borneo, Sarawak, Kalimantan, Sulawesi, Sumatra, Timor, Bali, Java, Flores, Sumba, Savu, Roti, Lombok, Malaysia. Nusa Tengara, New Guinea, Irian Jaya, Moluccas, Tanimbar, Leti, Lembata, Alor, Philippines, Luzon, Mindanao, Sulu, Southeast Asia, Asia, Asian, Burma. Myanmar, India, Nagaland, Nepal, Tibet, Himalaya, Himalayan, Assam, Thailand, Vietnam, Yunnan, Hainan, China, Central Asia, Dayak, Batak, Toraja, Naga, Chin, Li, Miao, Bahau, Punan, Penan, Modang, Kayan. Kenyah, Ngaju, Kontu, Kantu, Iban, Maloh, Tunjung, Busang, Aoheng, Dong Son, Konyak, Tangkhul, Ao, Angami, Sema, Wancho, Bontoc, B'laan, Bagabo, Gaddang, Ifugao. Sculpture, statue, mask, beadwork, bead, textile, weaving, costume, hat, shield, spear, helmet, sword, charm, fetish, drum, basket, basketry, jewelry, ornament, weapon. Canoe, amulet, decoration, architecture, architectural, longhouse, headhunter, headhunting, shaman, festival, ceremony, ceremonial, ritual, tattoo. Skull, dragon, hornbill, art, tribal, tribe, culture, cultural, myth, artifact, artefact, wood, stone, Indonesia, Indonesian, Borneo, Sarawak, Kalimantan, Sulawesi, Sumatra, Timor, Bali, Java, Flores, Sumba, Savu, Roti, Lombok, Malaysia. Nusa Tengara, New Guinea, Irian Jaya, Moluccas, Tanimbar, Leti, Lembata, Alor, Philippines, Luzon, Mindanao, Sulu, Southeast Asia, Asia, Asian, Burma. Myanmar, India, Nagaland, Nepal, Tibet, Himalaya, Himalayan, Assam, Thailand, Vietnam, Yunnan, Hainan, China, Central Asia, Dayak, Batak, Toraja, Naga, Chin, Li, Miao, Bahau, Punan, Penan, Modang, Kayan. Kenyah, Ngaju, Kontu, Kantu, Iban, Maloh, Tunjung, Busang, Aoheng, Dong Son, Konyak, Tangkhul, Ao, Angami, Sema, Wancho, Bontoc, B'laan, Bagabo, Gaddang, Ifugao. Sculpture, statue, mask, beadwork, bead, textile, weaving, costume, hat, shield, spear, helmet, sword, charm, fetish, drum, basket, basketry, jewelry, ornament, weapon. Canoe, amulet, decoration, architecture, architectural, longhouse, headhunter, headhunting, shaman, festival, ceremony, ceremonial, ritual, tattoo. Skull, dragon, hornbill, art, tribal, tribe, culture, cultural, myth, artifact, artefact, wood, stone, cotton, metal, bronze, brass, cloth, tropics, tropical, ethnographic.


Japan, Japanese, shrine, Masks, tsuba, kabuto, mempo, Dayak, Indonesian, sculpture, Indian Cola, Tibetan Thanka, Batak. Timor, Nias, African, Oceanic, Philippines, Luzon, Ifagao, Batak, Dyak, Nias, Bul'ul, artifacts, authentic, antique, asian, asia, expert, dealer, sell, buy, Los Angeles, California, JAPAN, JAPANESE. SHRINE, MASKS, TSUBA, KABUTO, MEMPO, DAYAK. INDONESIAN, SCULPTURE, INDIAN COLA, TIBETAN THANKA, BATAK, TIMOR, NIAS, AFRICAN, OCEANIC. PHILIPPINES, LUZON, IFAGAO, BATAK, DYAK, NIAS, BUL'UL, ARTIFACTS, AUTHENTIC, ANTIQUE, ASIAN, ASIA, EXPERT, DEALER, SELL, BUY, Japan, Japanese, Shrine, Masks, Tsuba, Kabuto, Mempo, Dayak, Indonesian, Sculpture. Indian Cola, Tibetan Thanka, Batak, Timor, Nias, African, Oceanic, Philippines, Luzon, Ifagao, Batak, Dyak, Nias, Bul'ul, Artifacts, Authentic, Antique, Asian, Asia, Expert, Dealer, Sell, Buy, japan, japanese, shrine, masks, tsuba, kabuto, mempo, dayak, indonesian, sculpture, indian cola, tibetan thanka, batak, timor, nias, african, oceanic, philippines, luzon, ifagao, batak, dyak, nias, bul'ul, artifacts, authentic, antique, asian, asia

Japan, Japanese, shrine, Masks, tsuba, kabuto, mempo, Dayak, Indonesian, sculpture, Indian Cola, Tibetan Thanka, Batak. Timor, Nias, African, Oceanic, Philippines, Luzon, Ifagao, Batak, Dyak, Nias, Bul'ul, artifacts, authentic, antique, asian, asia, expert, dealer, sell, buy, Los Angeles, California, JAPAN, JAPANESE. SHRINE, MASKS, TSUBA, KABUTO, MEMPO, DAYAK. INDONESIAN, SCULPTURE, INDIAN COLA, TIBETAN THANKA, BATAK, TIMOR, NIAS, AFRICAN, OCEANIC. PHILIPPINES, LUZON, IFAGAO, BATAK, DYAK, NIAS, BUL'UL, ARTIFACTS, AUTHENTIC, ANTIQUE, ASIAN, ASIA, EXPERT, DEALER, SELL, BUY, Japan, Japanese, Shrine, Masks, Tsuba, Kabuto, Mempo, Dayak, Indonesian, Sculpture. Indian Cola, Tibetan Thanka, Batak, Timor, Nias, African, Oceanic, Philippines, Luzon, Ifagao, Batak, Dyak, Nias, Bul'ul, Artifacts, Authentic, Antique, Asian, Asia, Expert, Dealer, Sell, Buy, japan, japanese, shrine, masks, tsuba, kabuto, mempo, dayak, indonesian, sculpture, indian cola, tibetan thanka, batak, timor, nias, african, oceanic, philippines, luzon, ifagao, batak, dyak, nias,