IFUGAO TRIBE:
SACRIFICIAL HAND
CARVED WOODEN BOWL

BATAD VILLAGE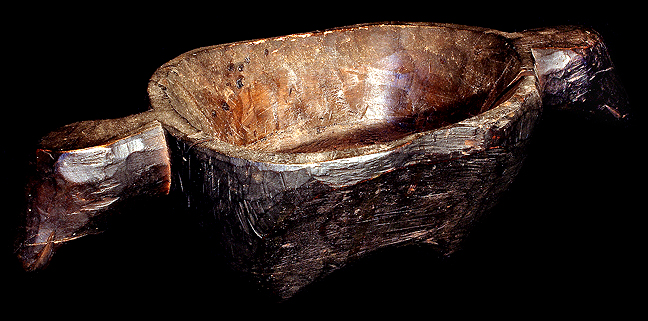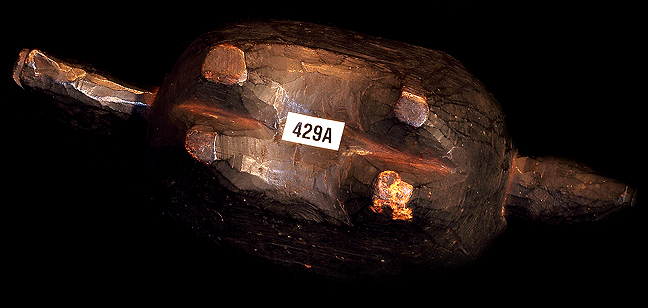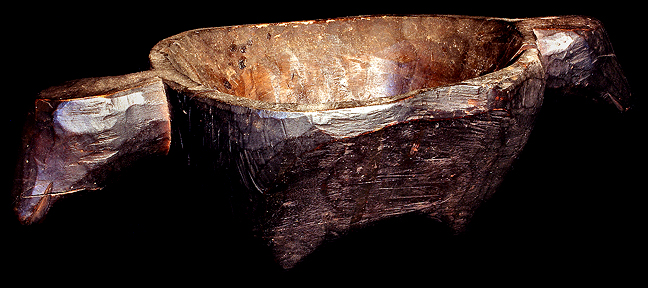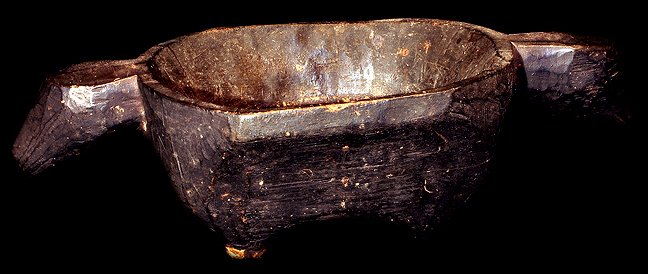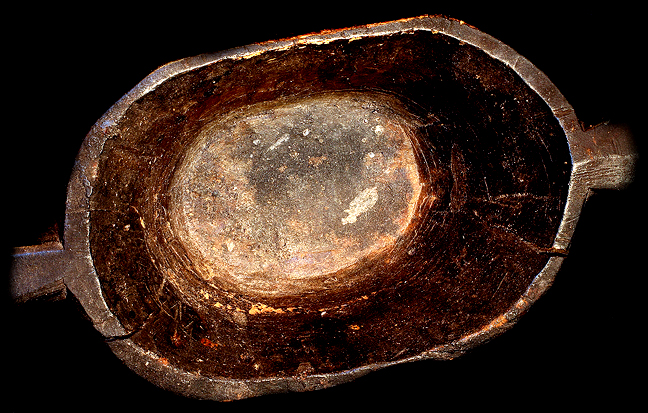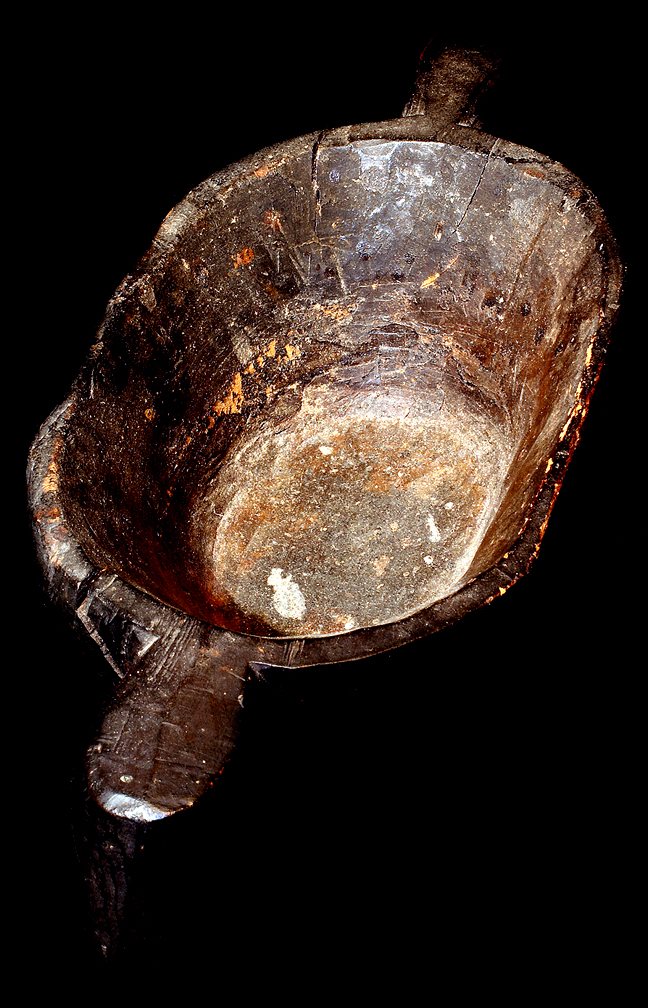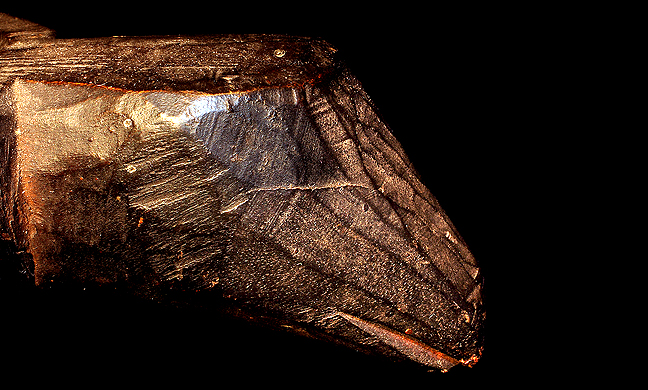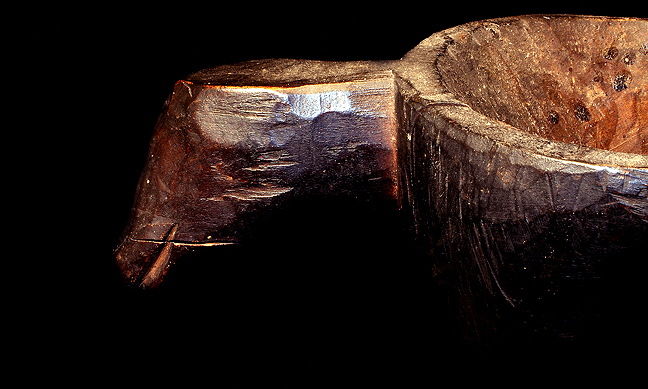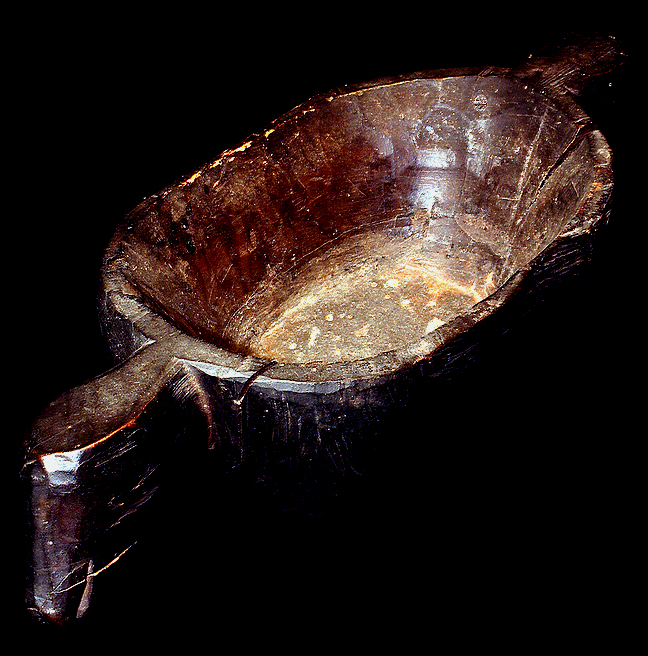 IFUGAO TRIBE: ANTHROPOMORPHIC
HAND CARVED SACRIFICIAL RITUAL WOODEN BOWL
THIS IS A VERY OLD IFUGAO TRIBAL USED ANTIQUE 19TH CENTURY SACRIFICIAL BOWL!
THIS REMARKABLE PIECE COMES FROM THE HEAD HUNTING TRIBE: "IFUGAO" IN THE CORDILLERA MOUNTAINS ON THE ISLAND "LUZON" IN THE PHILIPPINES. IT HAS A HEAD OF AN ANIMAL ON EITHER END; PERHAPS A BIRD OR A PIGS HEAD! THE ORIGINAL OWNER WAS "NESTOR" THE LARGEST LAND OWNER IN THE IFUGAO VILLAGE "BATAD!" IT IS IN EXCELLENT CONDITION. THERE IS A COLLECTION STICKER ON THE BOTTOM THAT READS: "429A." THIS RARE AND UNUSUAL PIECE HAS A FINE, RICH, DARK, BROWN PATINA. IT
MEASURES APPROXIMATELY 12 INCHES WIDE, X 5 INCHES,
X 4 INCHES DEEP. THIS IS AN EXTRAORDINARY
PIECE OF OLD ASIAN TRIBAL ART THAT
EXHIBITS WEAR AND SIGNS
OF TRIBAL USE.
THE IFUGAO TRIBE, ON THE ISLAND: LUZON
IN THE PHILIPPINES, USE ANTHROPOMORPHIC
SACRIFICIAL HAND CARVED WOODEN BOWLS
DURING ANIMAL BLOOD RITUAL SACRIFICE.

THE IFUGAO; ORIGINALLY REFERRED TO AS "IGOROTS" WERE
ONCE THOUGHT TO BE INCLUDED WITH THE BONTOC, KALINGA
KANKANAY, IBALOI AND GADDANG AS A SINGLE TRIBE
!
IT WAS NOT UNTIL EXHAUSTIVE RESEARCH LATER REVEALED
THESE WERE INDIVIDUAL TRIBES WITH DISTINCT
CULTURAL DIFFERENCES AND BELIEF SYSTEMS!

Asian tribal art, artifacts, ifugao, kalinga, bontoc, asmat, dayak, philippines, asia, head hunters, human trophy skull, skulls, african, antiques, naga, necklace, headdress, head hunting trophy skull, Indonesia, Indonesian, SOUTHEAST ASIA, Borneo, Sarawak, ANTIQUES, Kalimantan, Sulawesi, ART, Sumatra, Timor, ARTIFACTS, Bali, Java, INDIA, Flores, Sumba, NEPAL, Savu, Roti, BABAS, Lombok, Malaysia. HOLY MEN, Nusa Tengara, New Guinea, SHAMAN, Irian Jaya, Moluccas, CONTEMPORARY ART, Tanimbar, Leti, OLD, Lembata, Alor, MINILA, Philippines, Luzon, PALAWAN, Mindanao, Sulu, BLOW GUN, Southeast Asia, Asia, NOSE RING, Asian, Burma, HAT, Myanmar, India, SWORD, Nagaland, Nepal, KNIFE, Tibet, Himalaya, MOUNTAIN, Himalayan, Assam, TRIBES, Thailand, Vietnam, YAO, Yunnan, Hainan, HMONG, China, Central Asia, ZAO, Dayak, Batak, BAG, Toraja, Naga, POLE, Chin, Li, QUIVER, Miao, Bahau, MASK, Punan, Penan, MODELED SKULL, Modang, Kayan, BRASS COIL, Kenyah, Ngaju, COILS, Kontu, Kantu, TEXTILE, Iban, Maloh, PRIEST, Tunjung, Busang, RITUAL, Aoheng, Dong Son, MYSTICAL Konyak, Tangkhul, MYSTIC, Ao, Angami, PRIMITIVE, Sema, Wancho, HAND MADE, Bontoc, B'laan, ARTIST, Bagabo, Gaddang, BULUL, Ifugao. Sculpture, BULULS, statue, mask, BOX, beadwork, bead, AUTHENTIC, textile, weaving, TRIBAL, costume, hat, WOODEN, shield, spear, WOOD, helmet, sword, BOAR, charm, fetish, FEATHERS, drum, basket, FEATHER, basketry, jewelry, SILVER, ornament, weapon, ASMAT Canoe, amulet, decoration, SCULPTURAL, architecture, architectural, SCULPTURE, longhouse, headhunter, SKULL, headhunting, shaman, TRIBAL, festival, ceremony, ceremonial, SHAMAN ritual, tattoo, HEAD HUNTER Skull, dragon, hornbill, HEADDRES, art, tribal, VIETNAM, tribe, culture, TRIBES, cultural, myth, TRIBAL, artifact, artefact, REAL, wood, stone, HAND WOVEN, cotton, metal, CAST bronze, brass, cloth, ISLAND, tropics, tropical, EQUATOR, ethnographic, EQUATORIAL, Tribal Art, Primitive Art, Ethnographic Art, Oceanic Art, Folk Art, Ethnic Cultures, AUTHENTIC Artifacts, Textiles, ANCIENT, Costumes, Sculpture, SCULPTURES, Masks, Beadwork, BEADS, Fetishes, Charms, GOLD Jewelry, Baskets, BAMBOO, Weapons, Shields, ORNATE, Indonesia, Borneo, PUPPETS, Sumatra, Sulawese, SHADOW PUPPET, Java, Bali, CAVE, Timor, Flores, ISLAND, Sumba. Lombok, VILLAGE, Molucca, Philippines, RICE TERRACE, Luzon, Mindanao, DAVID HOWARD PHOTOGRAPHY, Nepal, Burma, SACRED JOURNEY: THE GANGES TO THE HIMALAYAS, Thailand, THE LAST FILIPINO HEAD HUNTERS, Laos, Vietnam, TEN SOUTHEAST ASIAN TRIBES FROM FIVE COUNTRIES, India, Central Asia, NECKLACES, Southeast Asia, Dayak, STATUE, lban, Kayan, INK STAMP, Kenyah, Modang, FEATHERED, Bahau, Ngaju, HORSE, Batak, Toraja, NAGALAND, Naga, Dong Song. TRIBAL ART, AUTHENTIC PRIMITIVE ART, OLD ETHNOGRAPHIC ART, RARE OCEANIC ART, BEAUTIFUL FOLK ART, ETHNIC CULTURES, TRIBAL ARTIFACTS, TEXTILES, ASIAN, COSTUMES, SCULPTURE, WOOD MASKS, BEADWORK, CHARMS, FETISHES, SIVER JEWELRY BOXES, BASKETS, WEAPONS, FILIPINO SHIELDS, INDONESIA, BORNEO, ETHNOGRAPHIC, SUMATRA, SULAWESE, TRIBAL, JAVA, BALI, TRIBES, TIMOR, FLORES, ASIAN, SUMBA. LOMBOK, TRIBES, MOLUCCA, PHILIPPINES, TRIBAL, LUZON, ASIAN, MINDANAO, NEPAL, ASIA, BURMA, THAILAND, TRIBAL, LAOS, VIETNAM, TRIBES, INDIA, CENTRAL TRIBAL ASIA, ARTIFACTS, SOUTHEAST ASIA, HEAD HUNTER, DAYAK, ASIAN, IBAN, KAYAN, TRIBE, KENYAH, MODANG, TRIBAL, BAHAU, NGAJU, ASIAN, BATAK, TORAJA, TRIBE, NAGA, tribal art, ASIAN, primitive art, ASIA, ethnographic art, TRIBAL, oceanic art, ASIAN folk art, SOUTHEAST ASIA ethnic cultures, artifacts, ASIAN, textiles, costumes, VILLAGE sculpture, masks, TRIBAL beadwork, fetishes, TRIBES charms. jewelry, TRIBE, baskets, weapons, TRIBAL, shields, indonesia, ASIAN, borneo. sumatra, TRIBAL ART sulawese, java, HILL TRIBE, bali, timor, ASIAN, flores, sumba, TRIBES, lombok, molucca, BULUL STATUES philippines, luzon, ISLAND ART, mindanao, nepal, ASIA, burma, thailand, JOURNEY laos, vietnam, TRIBAL, india, central asia, TRIBE, southeast asia, OLD ART, dayak. lban, TRIBES, kayan, kenyah, ASIAN, modang, bahau, AUTHENTIC TRIBAL ART, ngaju, batak, HEADDRESS, toraja, naga, MOUNTAIN PROVINCE, dong song, KALINGA, Indonesia, Indonesian, IFUGAO, Borneo, Sarawak, BONTOC, Kalimantan, Sulawesi, TRIBAL, Sumatra, Timor, ASIAN, Bali, Java, OLD TRIBAL ART