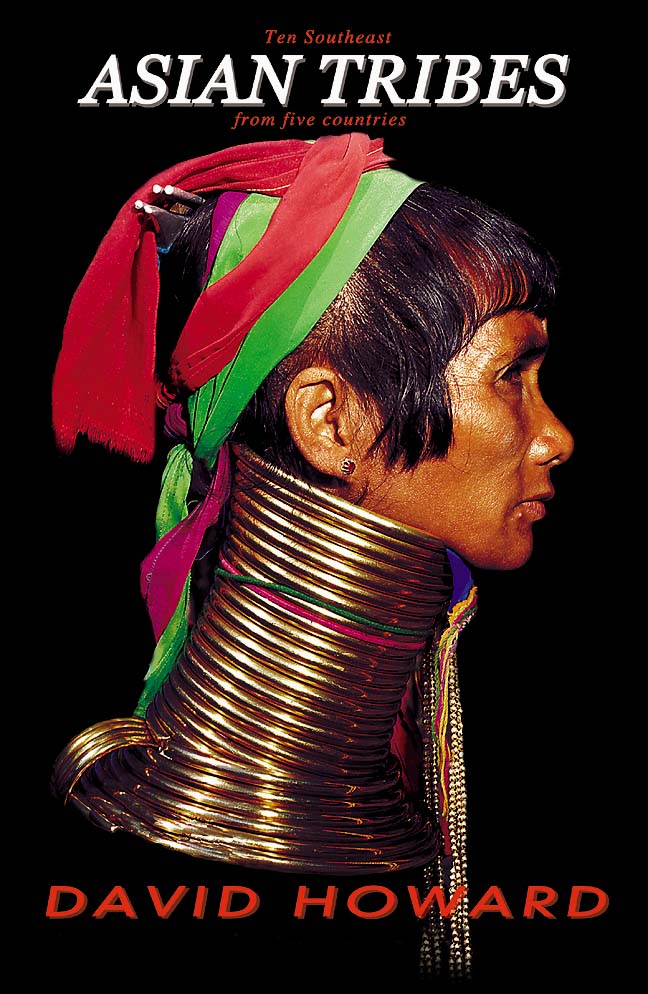 "TEN SOUTHEAST ASIAN TRIBES
FROM FIVE COUNTRIES"
DAVID HOWARD
"AN EXPERIMENTAL PHOTOGRAPHER OF AMAZING ABILITY"
(THE SAN FRANCISCO CHRONICLE AND NEW YORK'S VILLAGE VOICE)

A SENSITIVE AND PERSONAL PORTRAYAL; THIS BOOK'S TEN STORIES ABOUT TRIBES IN THAILAND, LAOS, BURMA, VIETNAM AND THE PHILIPPINES INCLUDES ELEVEN CHAPTERS: A PREFACE, INTRODUCTION, HISTORY, RITUALS, TRAVELING, CONVERSATIONS, RELIGION, TRIBAL LAW, CONCLUSION AND A BIBLIOGRAPHY.

DAVID'S PREVIOUSLY AUTHORED BOOKS: "THE LAST FILIPINO HEAD HUNTERS" AND "SACRED JOURNEY: THE GANGES TO THE HIMALAYAS;" PUBLISHED BY "TASCHEN" ARE ALSO UNIQUE NARRATIVES OF TRIBES ON THE BRINK OF EXTINCTION.

THIS BOOK IS 8 1/2" X 11", 287 PAGES, WITH MORE THAN 889 BEAUTIFUL PICTURES!

THIS ORIGINAL AND INNOVATIVE PRESENTATION EMBODIES TRADITIONS, THAT EVOLVED OVER THOUSANDS OF YEARS, WHICH ARE NOW SLOWLY VANISHING. A LAVISH PRODUCTION; THIS BOOK IS AN INVALUABLE HISTORICAL RECORD; COMBINING TRADITIONAL ANTHROPOLOGY WITH POPULAR CULTURE. EVERYONE CAN APPRECIATE THE STUNNING BEAUTY IN THIS UNIQUE PRESENTATION!

"A REWARDING AND INTRIGUING PROJECT..."
PAUL MICHAEL TAYLOR
THE NATIONAL MUSEUM OF NATURAL HISTORY, SMITHSONIAN INSTITUTION, WASHINGTON D.C.


THIS BOOK IS UNIQUE IN THE WAY IT PRESENTS PEOPLE AS INDIVIDUALS, UNLIKE PREVIOUS DOCUMENTARIES, WHICH GENERALLY DEPICT GROUPS, RATHER THAN INDIVIDUALS.

DAVID'S ART WAS INCLUDED IN MORE THAN FIFTY EXHIBITIONS IN FIVE COUNTRIES AND HIS WORK IS REPRESENTED IN MORE THAN TWELVE MUSEUM COLLECTIONS. HIS VIDEO DOCUMENTARIES HAVE AIRED ON P.B.S. NETWORK TELEVISION, AS WELL AS, SEVENTEEN CABLE STATIONS THROUGHOUT THE UNITED STATES. HIS RENOWNED DOCUMENTARY OF "NEW YORK'S EAST VILLAGE" PREMIERED AT THE WHITNEY MUSEUM OF AMERICAN ART AND "KEITH HARING: ARTIST AT WORK", AS WELL AS, "CHRISTO: THE ARTIST'S DECISION" HAVE BEEN ARCHIVED BY HUNDREDS OF MUSEUMS AND UNIVERSITIES THROUGHOUT THE WORLD.
ADDITIONAL QUOTES CONCERNING THE AUTHOR'S MANY BOOKS:

"A very sensitively conceived project"
Anne Rose Kitagawa
Harvard University Art Museum
Cambridge Massachusetts

"Your images help us fulfill our mission of documenting the world's
indigenous people before modern man encroaches on their way of life"
Thomas Baione
The American Museum of Natural History New York City

"The images are compelling"
Angela Pleasants
Smithsonian Magazine
Washington D.C.

"A talented and sensitive photographer"
Tribal Arts Magazine


ONLY $39.95 PLUS $4. SHIPPING AND HANDLING
TOTAL BEING: $43.95 (US)
WWW.PAYPAL.COM
E-MAIL ADDRESS FOR PAYMENT:
info@artsalesandrentals.com